Warren Buffet is often quoted as saying his dream investment is a 'monopoly toll bridge'. But what about a company that operates a portfolio of monopoly toll bridges? Atlas Arteria is one such company.
Atlas Arteria manages and operates over 2,360 km of toll roads and other infrastructure assets across Europe and the USA. The company was founded in December 2009 and is headquartered in Sydney, Australia.
Background and demerger
In 2010 Macquarie Infrastructure Group, which had a portfolio of infrastructure assets across seven countries including Australia, underwent a demerger into two separate listed entities, namely Intoll and Macquarie Atlas.
As part of the demerger, Intoll maintained management of the Australian assets and one Canadian asset, while Macquarie Atlas retained the European and US assets. In 2010, Macquarie Atlas changes its name to Atlas Arteria (Atlas).
A diversified portfolio of assets
Atlas manages a number of toll roads, bridges, and tunnels in Europe and the USA including:
APRR, a 2,318 kilometre network of motorways in the east of France, makes up over 85% of ALX's revenue. The network is located in a vital transportation corridor at the crossroads of Western European trade.
APRR consists of three concessions:
the APRR Concession,
the AREA Concession, and
a minority interest in the ADELAC Concession.
APRR provides critical connectivity between major French cities, including Paris and Lyon, and access to France's major trading counterparts.
Atlas recently increased its effective holdings of APRR from 25% to 31.14% which helped lift its FY2020 first half distribution guidance from 16.0 cents per share to 17.0 cents per share.
ADELAC operates two lanes in each direction for 20 kilometres near the French/Swiss border. The road provides a continuous motorway connection to the A41 (south) and the A40 (west), part of the APRR network.
The Dulles Greenway is a 22 kilometre toll road in northern Virginia, connecting Leesburg to Washington D.C. through the fast-growing Loudoun County. The Greenway is part of a key route in one of the fastest-growing and most affluent counties in the United States, connecting Dulles International Airport through Loudoun County to Leesburg, Virginia.
The Warnow Tunnel is a 2.1 kilometres toll road, including an 800 metre tunnel under the Warnow River in Rostock, Germany.
Stable growing income
Atlas's history of consistent strong dividend growth is very impressive. As shown in the below chart, the company's dividend compound annual growth rate (CAGR) was over 30% for the past 5 years. This growth was well covered by the cash flow, indicating the growth is sustainable. Guidance for the FY2020 distribution post the acquisition of an additional interest in APRR, is 40 cents per share, which is an increase of 13% compared to last year and 6% increase from previous guidance.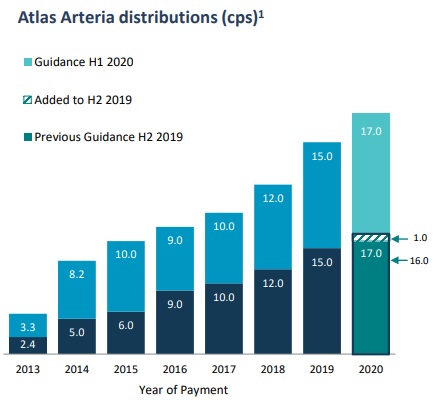 Summary
Our investment team had a one on one teleconference with Nadine Lennie, the CFO of Atlas, in the September 2019 after the company's half year result was announced. The new management team was appointed in April 2019 following the passing of a resolution to internalise management. In our view, the new management team is very experienced and capable of leading the company through the next phase of growth.
Atlas offers exposure to diversified assets across Europe and the United States with very high barriers to entry and limited substitutes. These assets have been generating strong cashflows with high margins and demonstrating resilient growth.
Stable growing distributions, solid balance sheet and a great management team make Atlas a great candidate for the CIE portfolio.
[sc name="post-disclaimer-wls"]