A key objective for the Contango Income Generator (ASX:CIE) is to deliver a sustainable yet attractive income stream by investing in companies outside of the ASX30 with strong cash flows and balance sheets.
In this mid-monthly update, I would like to present a stock in the Portfolio that reflects these investment objectives, MyState Limited.
MyState Limited (ASX:MYS)
MyState is a leading regional bank with Banking and Wealth management operations. Headquartered in Tasmania, MYS was formed by several mergers last decade between credit unions and the Tasmanian Perpetual Trustee. Around 2011 The Rock Building Society, based around Rockhampton, was acquired and merged into the group as well. The group finally became a bank around 2014.
With a market capitalisation of around $440m, it's one of the smaller financial stocks in the portfolio. CBA for example (which we don't hold as it's a top-30 stock) is nearly 300 times larger.
Being small comes with some issues, but also some advantages. For example, as the loan book and wealth business has grown, the small absolute size of the book has allowed senior management to overview all activity. As such, management are very confident that there are no Royal Commission issues lurking in the business like seen the major banks. This clean bill of health has given the bank a springboard to concentrate on growth.
The business is relatively simple with mortgage loans being the bulk of the book. Mortgage brokers are used to generate much of the loan growth. The wealth business is also quite simple with no issues of vertical integration and over selling in-house product.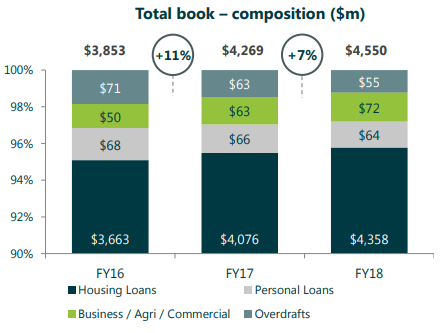 Source: MyState
However, banking is intensely competitive and front book discounting continues to be an issue. A few years ago, management began the task of digitising the bank. The aim was to make dealing with MYS easier, and to fast track growth in areas like term deposits, which fund the mortgage book.
The technology spend to bring the bank up to spend is now ending, leaving the bank in a good position to compete.
As the company is relatively small, it can be much more nimble in lending and funding, making up some of the scale advantage that the majors have. The large banks are also starting to tighten the approval processes for loans and MYS could be a beneficiary of this change.
The bank is in a strong capital position especially given the low risk in its loan book. Impairments remain at historic lows and 30 and 90 day arrears are well below peers and are stable.
Source: MyState
The bank increased its dividend slightly over the last year. The fully franked dividend of 28.75cps gives a gross yield of over 9% at $4.52. We view the dividend as reasonably stable.
MyState Limited offers good exposure for a yield focussed fund like CIE with a bank that is flying under the radar and doing well.
[sc name="post-disclaimer-wls"]