A key objective for the Contango Income Generator is to deliver a sustainable yet attractive income stream by investing in mid-cap companies with stable cash flows and consistent dividends.
In this mid-monthly update, I would like to present a stock in the portfolio that reflects these investment objectives, AusNet Services (ASX:AST).
Stock in Focus: AusNet Services (AST)
AusNet is a diversified energy delivery networks business. AST's network includes over 6,600km of power lines, 11,400km of gas mains, 13,000 electricity transmission towers and around 383,000 power poles.
The company owns and operates a significantly regulated energy services business as well as a non-regulated commercial energy services business.
Regulated Energy Services
AST owns and operates significant assets in the Victorian electricity transmission network, being one of five electricity distribution networks and one of three gas distribution networks in Victoria in a regulated environment. The business is regulated by the Australian Energy Regulator (AER) who sets the price movements for the electricity and gas networks once every five years by reviewing proposals submitted by electricity and gas businesses across Australia.
The three Victorian assets are worth over $9billion and generate more than 80% of the group earnings. Regulatory returns have just been reset in December last year, creating more certainty around an already reliable income stream.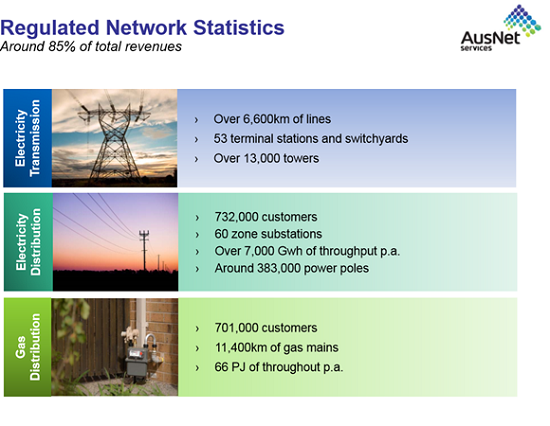 Source: AusNet
Victoria's energy network businesses are recognised as national leaders in efficiency and innovation; and Victorian electricity network tariffs represent a smaller share of consumer energy bills than those in other states. The below chart shows the efficiency rankings, with AST showing solid rankings.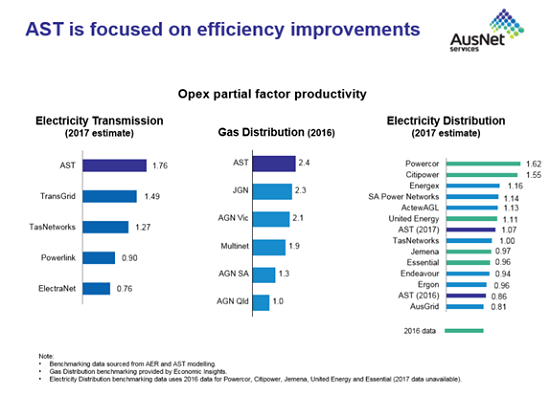 Source: AusNet
Commercial Energy Services
AST provides a range of energy and infrastructure products and services to business, government, communities and households. These services include metering, asset intelligence and telecommunication solutions, as well as advanced energy management solutions enabling community energy hubs and solar mini grids.
The Commercial Energy business is positioning to capture value as new energy expands in the future. As the number of wind and solar farms expand they are being developed to maximise sunlight and wind power. However, they need to be connected to the existing electricity grid and AST are well positioned to supply these services.
These opportunities are currently growing above expectations, with a strong pipeline of opportunities to generate an asset base of over $1billion in the near future. Since the return of the Commercial Energy business is not regulated, it has potential to earn higher returns.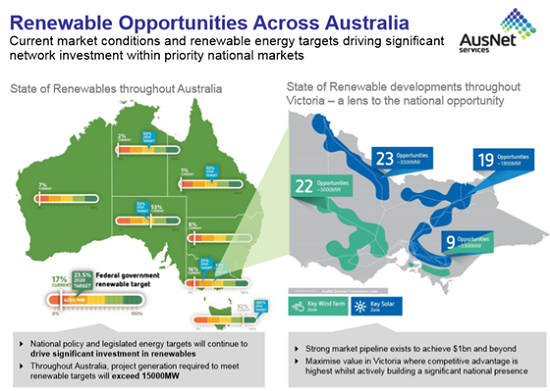 Source: AusNet
Cash Flow and Distributions
AST's dividend yield has been above 6% (with some franking) for the past three years, supported by a stable cash flow.

Source: Bloomberg
We view AST as a consistent and reliable income producer. Earnings are relatively stable for the foreseeable future and there is a reasonable chance that AST can participate in the growth of solar and wind by developing connections to the grid. Therefore, we view AST as a potentially strong contributor to a yield based, lower risk portfolio.
[sc name="post-disclaimer-wls"]