A key objective for the Switzer Dividend Growth Fund is to provide a sustainable stream of income, maximising franking where possible, and long-term capital growth by investing in a portfolio of blue-chip Australian shares. As such, we look for stocks with stable cash flows and a history of consistent dividends.
In this mid-monthly update, I would like to present a company we hold in the SWTZ portfolio that reflects this investment philosophy, REA Group.
This stock plays a defensive role in the SWTZ portfolio and, despite the recent market volatility, has performed well and is projected to continue to outperform the S&P/ASX200.
Stock in Focus: REA Group (ASX:REA)
The Story 
REA Group (ASX:REA) is a multinational digital advertising business specialising in property. Starting out in a garage in Melbourne in 1995, the business is now one of the great Australian start-up success stories, spanning eight countries and employing more than 1,400 people.
REA Group operates Australia's number one residential, commercial, share and co-working property sites: realetate.com.au, realcommercial.com.au, Flatmates.com.au and spacely.com.au. Since its launch it has been the dominant domestic online platform for residential real estate.
Its first-mover advantage, combined with prudent management and continued reinvestment in the business, has allowed it to build an almost unassailable network effect that is critical to any internet platform.
The Group's Asian operations include property sites in Malaysia, Indonesia, Hong Kong and Thailand, with prominent portals in Singapore, India and China. It also owns a 20% investment in Move, Inc., which operates realor.com, the number two property portal in North America.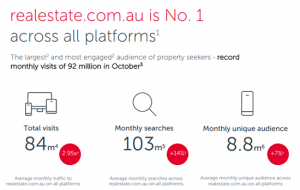 Source: REA Group Investor Presentation HY2020
REA's primary source of revenue is the sale of online property listing advertising, and user subscriptions to its platforms. It also offers home finance through its partnership with NAB, market data and insights, and useful tools and content for customers.
Since the nature of the business is capital light, its operating profitability has been very sustainable with earnings before interest, taxes, depreciation, and amortization above 50% for the past several years. REA Group's compound annual growth rate of revenue for the past 5 years has been a very healthy 17%. The business has also been generating solid free cash flow to support R&D investments and distributions to shareholders.
REA Group Dividends Per Share (Half Yearly)

Source: Bloomberg
Where REA Group Fits Into the SWTZ Portfolio
REA Group's dominant market position provides a defensive and sustainable income stream for investors. Our investment team believes this can continue for a variety of reasons:
1. Depth Products
Australia has a unique real estate marketing structure whereby vendors (the seller) pay for advertising rather than the agents. REA Group encourages vendors to invest in 'depth products' which enhance the appearance of property listings, increases the reach of potential buyers, and allows them to inflate the price of their property. Our investment team believes REA continues to command substantial pricing power with these premium products. Despite COVID-19, these premium products still enjoy healthy growth rates, which demonstrates the resilience of the business model.
2. The Decline of Print
Online advertising is at the core of REA Group. As print continues to decline and many traditional newspapers become online only, this business model gives REA substantial headroom to grow its share of the real estate advertising market. In addition, REA consistently uses the rich data drawn from online activity to develop more personalised ways to help people buy, rent and share property.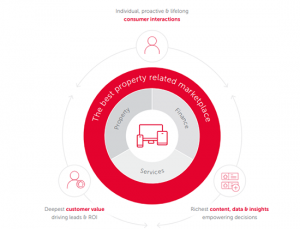 Source: Annual Report
3. Overseas Expansion
The growth rate of REA's domestic platform has recently slowed due to lower residential listing volumes and a significant decline in new dwelling commencements. However, despite slowing, domestic earnings are strong and the Group has used the stable and sustainable cashflow generated from the domestic business to fund its overseas expansion.
Its growth in Asia has led to REA becoming the number one property site in Malaysia, Hong Kong and Indonesia. This strong audience growth, coupled with its continued investment into developing new technology and services, gives us confidence in REA's future expansion across Asia, Europe and North America.
Recent Performance
The Group announced its March quarter trading update on 8th May. Pre-COVID-19, listing volumes were trading strong until the middle of March, especially in Sydney and Melbourne.
In April, national residential listing volumes were down 33%, with Melbourne down 27% and Sydney down 18%. Despite this, REA Group continued to grow its earnings due to its defensive and resilient business model. We believe that the drop in listing volumes is a temporary short term cyclical factor.
In reaction to its March quarter results, REA Group's management announced cost savings across the business and a range of initiatives to support the property market. The Group's CEO recently stated that buyer activity on realestate.com.au has already returned to pre-COVID-19 levels.
These factors on top of its strong balance sheet (only a small amount of debt with the ability to obtain bank support) will enable REA to come out of the crisis even stronger. With the strong potential for capital growth, the Fund took this opportunity to add the stock into the portfolio in April.
[sc name="post-disclaimer-swtz"]
Related content