The good news is that this chart says Australia is doing better than most countries with the Coronavirus.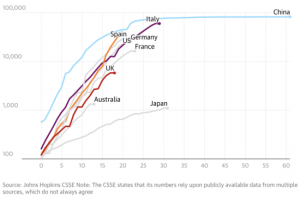 Source: The Guardian. Data as at 23 March 2020
Yep, we are hanging around with the countries doing OK with COVID-19 and while I (and all of us) hate the restrictions now being imposed, it could be a plus that keeps us in the not-so-threatened group of countries.
The bad news is that there isn't enough good news around. This headline in the AFR, is a case in point: "IMF tips global recession."
Headlines like that don't help but they undoubtedly are going to be accurate.
The only two hopes that will make the recession shallower and shorter is a quicker-than-expected beating of the Coronavirus, and stimulus packages that shock and awe economies.
What does this all mean for SWTZ?
The current dumping of stocks is linked to the impact of the worldwide lockdown to beat the virus, which is reducing profit and sales forecasts of big and small companies, which in turn kills share prices and jobs!
In these crazy times it's worth remembering what SWTZ was set up to achieve. The fund aims to provide investors with tax effective income by investing in a core portfolio of blue-chip Australian shares. As a result our unit price should rise and fall with the market, but our dividends should be less impacted than share prices in market crashes, as dividends don't tend to fall as quickly as stock prices.
Some investors have asked me whether the fund is moving to cash during this time. Timing the market, or moving in and out of cash in an attempt to pick market highs and lows, has never been the aim of SWTZ. The reason for this is that it's hard to focus on good dividend paying stocks if you're moving in and out of the market. Also, moving to cash means you have to get two decisions right – when to get out and when to get back in – and history says that is very hard to do. SWTZ is about time in the market, not timing the market.
Picking sound businesses that have the best chance of maintaining and growing dividends (from an already attractive base) is the fund's aim.
The outlook for SWTZ distributions
There are a few things to consider regarding the outlook for distributions. As we've communicated in the past, there were a few factors that made 2019 a particularly good year for dividend paying strategies like SWTZ. These factors were mainly one-offs (share buybacks and the threat of a Bill Shorten government), so even before this Corona Crash, we were expecting distributions to return to a more 'normal' level.
Now the Corona shutdown has put question marks over the outlook for dividends for many of the companies SWTZ invests in. In a world where shopping centres, airports and casinos are closed, and even car traffic falling away, the short-term outlook is unclear. The good news is that SWTZ invests in very high quality companies – but even these companies will be impacted by the drop in activity. Companies may delay or forego payments of dividends as a precautionary measure to conserve cash through this period. Many companies have given up on providing short-term guidance until some certainty on the outlook returns.
How governments respond to the Corona crisis will be important. Here in Australia the Government and the RBA, as well as the banks have mustered a package of measures to help resuscitate the economy. In total it was worth about 9.7% of GDP. In contrast the Yanks last week were talking about a trillion stimulus package, which was more like 5% of GDP.
However, the penny has dropped and reality is biting. The Yanks have finally agreed on a whopping US$2 trillion stimulus package, which has already helped the stock market with the Dow Jones Industrial Average up over 13% in two days!
The Germans are showing up everyone, trying with a stimulus package of 1.35 trillion euros, which is about 30% of GDP! And as a consequence, they're tipping that their economy will only shrink by 5% this year, which would be a great result.
But it's not just the economy, that people like me are watching and I do have good news.
Chris Joye of Coolabah Capital Investments has his money market researchers watching the virus infection data 24/7 like they used to for financial sector movements, and he's cautiously positive that we might see better readings worldwide within 3-4 weeks! When that happens the stock market will rebound very strongly.
And if that's the case, then we here in Australia might sensibly expect that our costly containment measures, on top of our relatively low infection and death rates, might suggest we could get lucky on both the medical and economic fronts.
This in turn will be critical to what our stock market does. So the message for investors is: don't panic; have patience and there will be a recovery of the economy and stock prices.
[sc name="post-disclaimer-swtz"]
Related content