A key objective of the Switzer Dividend Growth Fund (ASX:SWTZ) is to provide a growing stream of income, maximising franking where possible, and long-term capital growth by investing in a portfolio of blue-chip Australian shares.
As such, we look for stocks with strong business models stable growth over the long term.
In this mid-monthly update, I would like to present a company we hold in the SWTZ portfolio that reflects this investment philosophy, Goodman Group (ASX:GMG).
Stock in Focus: Goodman Group (ASX:GMG)
Goodman Group (GMG) is a global property group that owns, develops and manages real estate including logistics and industrial facilities, warehouses and business parks.
The company's "own+develop+manage" model is an integrated customer service offering. The model comprises:
Own
Goodman buys property for the long term. This provides both ongoing relationships with customers, as well as investment opportunities for the managed partnerships.
Develop
Goodman's tailor-made developments in each region are designed to meet the individual needs of customers and supply new investment options for capital partners.
Manage
Goodman's in-house property services teams ensure that customers' operational needs are met, and asset portfolios are maintained to an exceptional standard for its customers' investment needs.
The Story
Goodman aims to acquire industrial properties in prime locations to service densely populated cities. The company's thesis is based on the global growth in e-commerce, and the need for retailers to service their customers as quickly as possible. This requires Goodman to have distribution centres in strategic locations across major cities. GMG identifies locations that are close to consumers and key infrastructure such as airports, major motorways and ports. The company then works with retailers, such as Amazon, to custom build high-quality sites with the latest technology and automation, ensuring customers' supply chains run at maximum efficiency.
Source:
HY19 GMG Results Presentation
Why we like it
GMG has spent the last 10 years positioning and refining its global asset portfolio. It has accumulated sites in locations which are difficult to acquire today and boasts some of the largest e-commerce providers globally as its tenants, thereby securing long-term rental income. Its business model allows GMG to capture maximum profits: locating the site, developing it for a fee, then selling it into its funds management business and earning recurring management fees.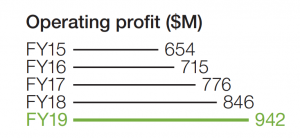 Source:
2019 AGM Presentation
Our portfolio managers interactions at the Goodman Group investor day and Citi Group's recent investment conference re-enforced our view that GMG's diversified asset base in prime locations is a competitive advantage that is extremely difficult to replicate, and will have structural demand growth for the longer term. This should in turn drive rents, increase asset values and profits for shareholders.
[sc name="post-disclaimer-swtz"]
Related content