A key objective of the Switzer Dividend Growth Fund (ASX:SWTZ) is to provide a growing stream of income, maximising franking where possible, and long-term capital growth by investing in a portfolio of blue-chip Australian shares. SWTZ has a current yield* of 8.05% (11.49% including franking).
As well as comprising a collection of high yielding quality companies, SWTZ also has a small proportion of its assets invested in quality companies that, we believe, offer the potential for capital growth.
In this mid-monthly update, I would like to present a company we hold in the SWTZ portfolio that reflects this investment philosophy, James Hardie Industries.
* Yield calculation based on distributions paid during the 12-months to 31 December 2019 relative to the closing unit price at the beginning of the period
Stock in Focus: James Hardie Industries (ASX:JHX)
James Hardie Industries is an international building product manufacturer and a global leader in fibre-reinforced cement. Operating since 1888, the company challenges convention within the construction industry and leads the way in delivering innovative building products and solutions. James Hardie pioneered modern fibre-cement that is used worldwide today.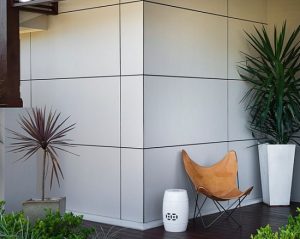 Source: James Hardie Industries
The Story
JHX grows profits by taking market share from legacy cladding solutions. Their '35/90' strategy – whereby they are aiming for a 90% share in the US Fibre cement market while growing Fibre cement to 35% of the overall cladding market – means the company is pursuing ambitious, above market growth. They define this as Primary Demand Growth (PDG).
Despite these lofty growth targets, James Hardie Industries has a history of successfully introducing price rises to drive profitability.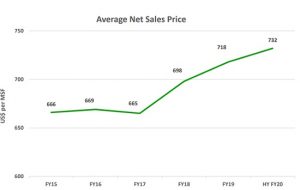 Source: James Hardie Industries 2Q20 Results Presentation
Where James Hardie Industries fits in the SWTZ portfolio
JHX is a quality company with an attractive range of businesses. The dividend yield is, however, quite low and usually unfranked. This is common for international growth stocks with offshore earnings.
Most of the return from an investment in James Hardie will comprise growth in the share price as opposed to dividends received. Companies like James Hardie Industries add the potential for capital gain in the portfolio. After having bought the company back in February 2019, recent sales netted a healthy capital gain of over 50% for the SWTZ portfolio.
James Hardie Industries share price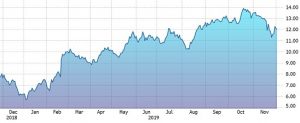 Source: Bloomberg
Why we like it
35/90 has been JHX's north star for several years, however recent progress towards this goal has been patchy. Following a CEO change (an internal promotion of Jack Troung from the very successful Asian division – an appointment which we view favourably), the company looked set for a revamp and further growth. Additionally, the following factors aligned in favour for JHX:
The macro environment has become more favourable for US housing, driving underlying demand for cladding.
Revamp of the marketing strategy to drive higher PDG and volume growth.
Ongoing price rises.
Acquisition of Fermacell performing in line with expectations and opening a new 10-year growth market for the business in Europe.
Rising input costs began stabilising.
Following our meetings with management in early 2019, we concluded that the company's shares were oversold and decided to accumulate at what we believed to be favourable prices. Since then the share price has risen significantly. We have taken profits in our position and will continue to monitor the company's progress.
[sc name="post-disclaimer-swtz"]
Related content